Top Trumpisms
This is a true story.
When I was 13 my dad took me to New York City.  I was an aspiring stock-analyst at the time (like any other 13 year old) and loved Wall Street.
I wanted to also visit Trump Towers.  It was even bigger than I expected and I loved how it was next to central park.
Trump had just released his first book: The Art of the Deal
Regardless of how you feel about Trump – READ THE BOOK!  Very tactical advice on real estate investing.
Anyway, as a promotion they had signed copies and I bought one.  After I bought it I walked straight up to the elevator and tried going to the top.  Security asked me where I wanted to go.  I said Donald Trump's penthouse.
They said: You can't just go up to the man's house.  You have to make an appointment!
I said: (in my 13-year old squeaky voice) I don't understand what the problem is.  I was going to knock!
 Below are my top 4 Trumpisms
1. Money Changes The Game
Be honest – NOBODY would be paying attention to this guy if he didn't have money.  For better or for worse, this is the world we live in.
2. The Emperor Has Clothes
Trump say's exactly what he thinks.  Regardless of your political affiliations, this is extremely welcome.
3. The Media Loves Him
Trump is a media GOLD MINE.  This might be why he wins.  Whether they hate him or love him, everyone is talking about him.  We aren't talking about anyone else.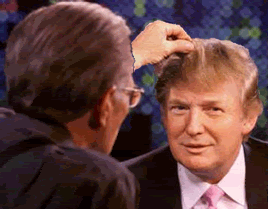 4. Contraversy and WTF
I kind of what him to be elected just so I can stop hearing about how George W. Bush caused all the problems in the world.
What kind of person say's this?
Learn More About Me and How I Built A 6-Figure Real Estate Business While Working Full-Time