How Do Construction Loans Work – Construction Draw Schedule
In my experience, everybody wants to know:
"How Do Construction Loans Work" – the most important part of the answer is the construction loan draw schedule.
In our prior post we talked about how exactly a construction loan works.
On this post we are going to get more detailed and talk specifically about what is included and not included in each draw requests.


The bank will keep a schedule of inspections for each draw.  This is a partial screenshot of the free spreadsheet you can get at the bottom of the post.  It's very important you have these filled-out properly to stay within your construction budget.
Additionally, there is a free construction loan draw schedule here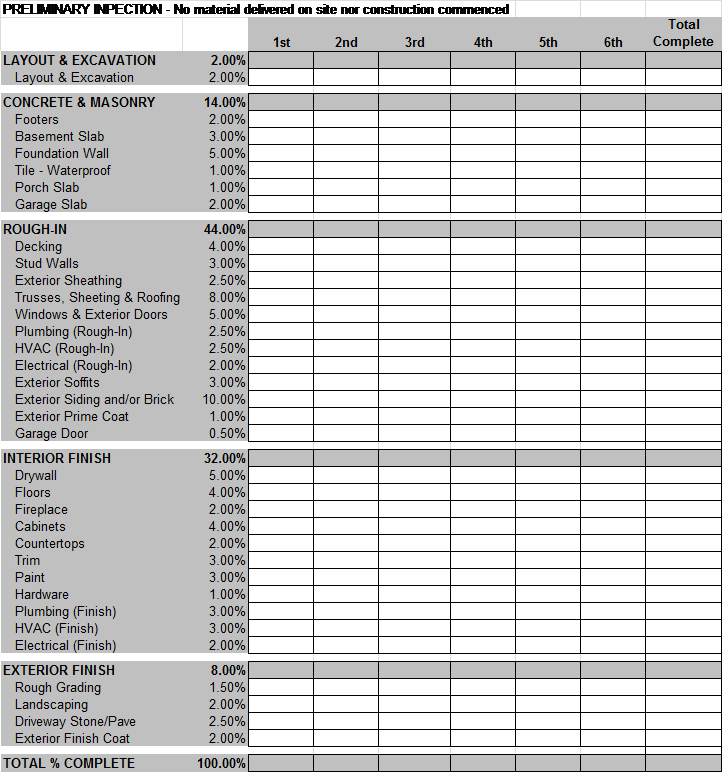 To Get The Free Construction Draw Schedule Spreadsheet click here
I have financed hundreds of new construction projects.  However, I'm about to start building my first house!
Do you want to follow along?
I'm only letting 9 people have access to all my files: contracts, draw sheets, blueprints, tax-returns, videos of construction inspections, and a lot of other bonus video content.
https://gum.co/buildingahouse

If you still have questions about investing in real estate and growing your real estate company fill out the form below.