Passive Income is the number 1 request from my readers.
I thought I would start this year with outlining the passive income strategies I have implimented.
Before we jump into the tactics and strategies, let's talk about the benefits of passive income and why you need to focus on building this now!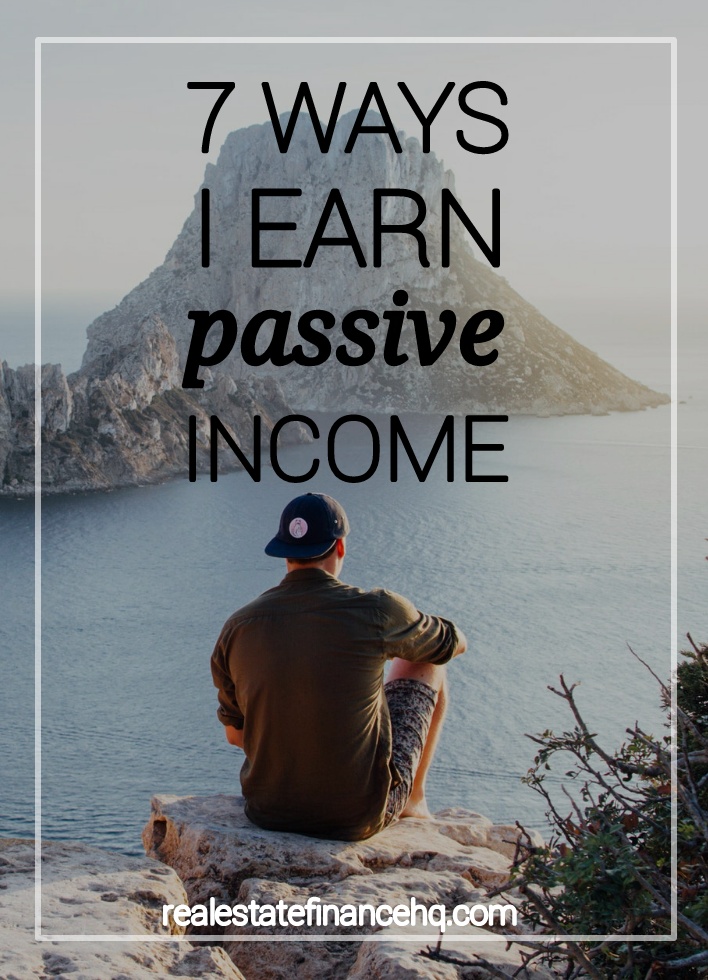 Passive Income
Time and Money are both extremely valuable commodities.  Generally speaking, younger people value money and older people value time.
I know several people who make over a million dollars a year, that would gladly quit their profession if they could make $250K in passive income.
If you value money more than time, there is a high probability you don't have much money and you have excess time.
They key to compounding both your income and your net worth is passive income.  You want to have "active income" which is your job or business, but also invest whatever you can into passive investments.  The more aggressive you save and invest the faster you retire.
This is how you hear of people like Mr. Money Mustache who retired before he was 30 despite never earning 6-figures.
Before we dive into some passive income tactics and strategies I highly recommend you get organized.
If you just wait to invest whenever your checking account get's to a certain level you will never do it.  I highly recommend getting separate accounts for each investment.  That way you can closely track how each investment is performing.
About a year ago I started using Personal Capital it aggregates all your different investing and bank accounts.  It also helps you with budgeting and is completely automated.  OH – AND IT'S FREE!
You can read more about getting organized here:
Long-Term Rentals
Real Estate has made more millionaires in the United States than anything else.  This should really make you pause and question why you are not invested in real estate.
Real Estate continues to be the best long-term asset according to most americans.
My favorite passive income structure is long-term rentals.  Specifically, long-term single family houses.  If you are wondering why I prefer single family vs multifamily it's this: less work.
I'm sure if you are a novice and have never managed multifamily properties you are thinking I am wrong as you have compared the two investments on a spreadsheet and found more cash-flow with multifamily properties.
However, what a spreadsheet wont tell you is the headache that comes from the higher turnover and the higher maintenance spending due to increased turnover.
I have owned rental property for 15 years now and can tell you for a FACT my single family real estate investments have outperformed my multifamily rentals on both appreciation and net income.
If you want to see the infographic on multifamily vs single family go here.
When analyzing rental property I like to work backwards and start with net income.  Specifically, what do I want my monthly net profit to be?
Usually this is around $300 per door.
So let's walk through a simple example.  Let's say I'm looking at buying a house and I'm going to offer $120,000 and get a $100,000 mortgage.  The mortgage will have a monthly payment of $606.
Net Required Monthly Profit: $300
Mortgage Principal and Interest: $606
Property Taxes: $200
Insurance: $75
Maintenance Expenses: $150
Total Monthly Expenses: $1,331
Therefore, for me to buy this property I need to be able to charge at bare minimum $1,331.  If you want to be VERY conservative you do the math using 100% financing.  I buy in nicer areas so I just do the math like what I wrote about.
Now, some of you might be excited about making this extra $300 in passive income AND benefiting from property appreciation but are still wondering how exactly do you screen tenants, manage applications, collect rent, et cetera.
The answer is Cozy.  When I first started I had to get people to mail me their rent applications back, get rent in mail via check, Cozy has taken this entire process online.  The best part…It's FREE!
I also highly recommend their blog: landlordology that my good friend Lucas Hall runs.
Two things I do to dramatically decrease maintenance calls while managing properties yourself is to:
tell tenants when they move in to call a list of preferred venders instead of calling you – I give them a list and have a good relationship with the vendors
Have the tenant pay the first $75 in maintenance expenses as an option in their lease for a discounted rent.
I want to end with this.  Instead of listening to everyone complain about calls in the middle of the night about a toilet not working (which I have never gotten), I recommend just doing it!  Just buy a property and rent it out.
The worst thing is it doesn't work out: you can't get it rented, unforeseen maintenance expenses, and you sell it for basically what you bought it for.  You will probably get a lower tax bill because of these losses.  This is a very manageable downside risk.
"Do you want to know who you are? Don't ask. Act! Action will delineate and define you."
Short-Term Vacation Rentals
I have had two wildly different experiences using sites like Airbnb.  Both experiences were positive though.
The first time I used Airbnb was about 6 years ago when I was a corporate bank underwriter.  I knew through this job that my city, Chattanooga had a dramatic hotel shortage.  That year it was announced that IRONMAN Chattanooga was coming!  I knew this was only going to exacerbate the hotel shortage.  I was lucky enough to actually live on the course and close to downtown.
Quick backstory: I'm extremely entrepreneurial and being married for now 16 years my wife is tired of hearing about all my "ideas." We developed a rule that has been extremely helpful.  I can't tell her about an "idea" until it starts generating actual revenue.
After Ironman was announced I listed our house on Airbnb without telling my wife.  I listed it at an insane price of $550/night and a 7 night minimum.  I didn't need the money and thought the high revenue would offset any temperament my wife might have.
People always ask me: where did you go?
My answer: on vacation!
We stayed at Disney for $100/night!!!!
I rented my house out a couple of times that year once for Ironman and once to a family that wanted to be together for a wedding.
My second experience with Airbnb was completely different.  I had a vacancy problem with my multifamily properties and knew that I had to get creative.  My multifamily properties are all in great locations – but they were vacant at bad times (September).
I worked really hard and got this apartment ready to list on Airbnb and the first month it was rented about 70% of the time.  Then my friend had a coworker needing a place to rent from overseas for a couple of months so we converted another unit.
It's definitely more work having a short-term rental but it's also more cash-flow.
You might be wondering why I'm including in a post about passive income.
Well just like with long-term rentals you can hire a property manager to manage your short-term rental.   Just make sure to get references and understand all the costs involved.
Sign-Up To Be An AirBnB Host Here
Sign-Up As a Traveler Here and get $20 in travel credit
A quick note about VRBO and Booking.com.  These are airbnb's primary competitors and I have listed my properties with them as well.  However, I would absolutely NOT recommend them.  There websites are extremely clunky and not user-friendly.  Importantly, they don't drive that many bookings anyway so I definitely don't think it's worth the hassle.
Dividend Stocks
When I was 12 I won a stock market competition.  My parents went absolutely balistic with excitement recognizing that their kid was actually good at something.  That summer I lived at the library studying books by Peter Lynch and Warren Buffett.
Fast forward to after college and I talked my way into a hedge-fund due to my personal portfolio's performance while in college.  I became a partner there when I was 24 and we sold it to a private equity firm several years later.
All that to say…I love dividend stocks!
I met a guy one night who said he would let me manage his portfolio if my personal performance was better than his.  Feeling extremely confident I set a meeting for the next meeting to transfer the account.  Then he told me what stock he was in.  His entire net worth was invested in tobacco stocks.  Tobacco stocks pay extremely high dividends because it's not a growth industry.
In terms of passive income, it really doesn't get any better:
Dividend income is taxed at a flat-rate.
Dividend income tends to increase over time.
Dividends are completely passive.
Of-course by investing in stocks you also get the appreciation of the stock.
Dividends actually make-up a large portion of the stock market's total return.
You can tilt the performance on this to be more passive by buying high-dividend paying stocks that tend to increase their dividend overtime.  These stocks are commonly referred to as Dividend Aristocrats.
There are two primary problems with stock investing:
You are not in-control
You have to have a fairly large amount of money to overcome the frictional costs of trading commissions.
Here are my counterpoints:
This is a passive investment
Use the Robin Hood app
I just started using this app called Robin Hood and I am completely addicted.  It's really fun to use and it's FREE.  They don't charge any kind of commission for buying or selling stock!
Therefore if I have an extra $30 – I'll go ahead and buy a favorite stock on my watchlist.
https://share.robinhood.com/jamesm2966
The best part is that when you sign-up with my referral link you get a free stock!
Please note, I also get a free stock so it's a win/win!
I highly recommend you download the app even if it's just to get a free share of stock!
Advertising
If you have a blog with any kind of traffic you can post google adsense on your site and get paid.  It doesn't matter if the person buys anything or not.  A lot of people don't use advertising because they don't think they get paid enough.
I highly disagree as with advertising you are getting paid passively.  Therefore it is worth it.  What I really like about ads is that you can create a piece of content that is hopefully really viral and you will continue to make money on the ads.  I kind of think of it like a dividend for my hard work in writing the content.
If you don't have a blog I highly recommend you check-out my guide on how to set-up a website in under 9 minutes.  At the very least I recommend you get a domain name through bluehost with your own personal name so nobody else will get it.  You can get that here.
Kindle
This passive income strategy might surprise you – but I HIGHLY recommend it.  First off, it's Amazon (aka where everyone goes to buy books).  So you have a huge distribution network.
You might also be thinking you don't have time to write a book.  My best selling kindle took less than a month to write.  It's basically a 21-Day Devotional To Become A Better Man:
If you don't have time to sit-down and write I highly recommend you just talk into your phone to do voice recordings.  Then have them transcribed.  You can use a service like fiverr or rev.com to have them transcribed.  Both are super cheap.
I'll be honest – I don't make that much on my kindle sales – but I don't promote it either.  However, I do have a lot of people coming to my site because they have read one of my books.  Some people simple giveaway kindle books as a traffic source for their website.  I think this strategy is genius.
Even though I don't make a meaningful amount of money from kindle sales there are plenty of independent authors who do.  The first guy I heard about was Steve Scott.  The last income report he published is now 3 years old but he was making close to $50K a month – just in book sales!!!!  I heard him on a podcast recently where talked about cracking six-figures in a month!!!
If you want to get serious about being a self-published author I highly recommend two resources:
James Altucher's article – How To Become A Self-Published Author
Nick Loper's podcast – Building A $4260 Per Month Kindle Publishing Business
I highly recommend not only Nick Loper's Side Hustle Nation podcast but his website as well.  My favorite part is his email list and he emails out cheat-sheets with a summary of his podcasts.
As a consumer I haven't made the complete switch to kindle, but I have exponentially increased my reading on kindle.  I just use the kindle app on my iphone.
I love how kindle books are either free or really cheap and I love the convenience of an entire book on my phone so I can read it while I'm waiting for somebody.
Affiliate Income
This strategy has the largest return on investment potential and is completely passive.  If you don't know, when you use a special link and someone buys or signs-up for something the person selling that product will pay you a commission.
There have been entire books and podcasts dedicated to this subject so I will try and keep it limited to the most helpful strategies and tactics I have implemented.
My top paying affilliate income is Personal Capital.  I love promoting this product because I use it myself and love it AND it's completely free.  To promote this I wrote an extensive blog post on how I use this free tool:
My second favorite strategy is using Amazon.  Amazon does not pay affiliates much at all on a percentage basis.  Below is the chart of payout percentages by category.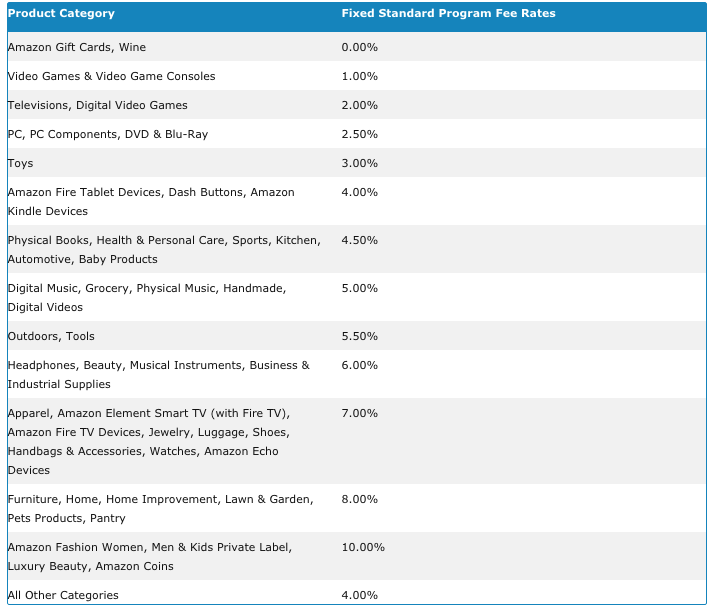 My favorite Amazon strategy is to us their bounty program.  If you try one of Amazon's services they will pay you a flat fee.  For instance, if someone buy's a Prime Membership through your affiliate link you will make $3.00
My highest converting bounty is to get people to try Audible.  I get $5.00 and you get a free month.  Again, Audible is easy for me to promote because I use audible almost everyday.
Try Audible and Get Two Free Audiobooks
The go-to resource regarding affiliate marketing is Pat Flynn with Smart Passive Income.  I have been following him for years and his story is incredible.  He got laid-off as an architect and started a blog selling lesson plans on how to pass the LEED exam.
Now he makes six-figures a month promoting other people's products!
The people who do well with affiliate marketing don't just sell.  They usually use the products themselves and show others how they are using them.
If I was starting a blog just to make affiliate income I would target the Amazon Alexa.  It's got a $100 price point so everytime someone buys one you make around $5.  Amazon is constantly updating this product with features that you could talk about and display.
Digital Products
The most highly paid-bloggers are the ones that sell their own products.
A lot of people get easily overwhelmed with the process of creating their own product.
However, there is a great chance that you have already created something people will buy.  You just need to sell it.
For instance:
I built a multifamily underwriting spreadsheet to analyze apartment complexes.  I now sell this digitally since I'm not an underwriter anymore.
I built a cash flow presentation to get a portfolio loan.  I now sell this digitally for Pay What You Want.
When I was starting to get into vacation rentals, I built a Vacation Rental Income Statement so I could keep track of all the extra expenses and all the different sources of revenue.  I now sell this for $9.
When I was looking at flipping a property I built a spreadsheet detailing all the costs involved so I wouldn't be blindsided.  I also built a rehab estimator for future deals.
Ok – YOU GET THE IDEA!
Obviously these products are not making me rich.  However, it changes the dynamics of my email list to customers who find value in the products I offer.  Also, there has been several scientific studies done that show you are more likely to use something once you pay for it.
If you are SERIOUS about selling digital products and your own personal brand I recommend you check-out the book: Expert Secrets by Russell Brunson.
Russell has created several multimillion dollar companies in several areas: physical products, digital products and software.  His book was easily my favorite book I read last year.  I even bought The Black Box which is the up-sell he offers.  I did an unpacking of this here:
You Can Get a 14-Day Free Trial of ClickFunnels Here 
Bonus: SwagBucks
This is a new passive income stream that to be honest is not material.  However, I also don't really do anything and get paid :-).
The only thing I have done is add it as a chrome extension.  Sometimes it pops up when I'm on a site that's compatible and I get swagbucks.  I've made $5!
There are some people who make like $2,500 a year and use this money for Christmas shopping.
You can make money from Swagbucks doing:
Survey's
Watching Videos
Searching
Couponing
I wouldn't spend a lot of time on this one.  However, if you basically do nothing and get paid $5 a month – that's not too bad.
Summary
Hopefully after this 3K word post you have some actionable ideas to increase your passive income and make some more money while you sleep.  This is not an overnight game.  You have to wake-up and do the work everyday.
If you have any interesting passive income strategies that you implement – please email them to me so I can feature you on this blog!
Action and Consistincy Quote!