All my friends call me a "hustler" and I take that as a compliment.
When I was 13 I took on my first side-hustle.  When I was 16 I was able to my first truck in cash.
I've used "side hustles" for extra cash to:
Giveaway to charities
Buy Houses in Cash
Pay my for my mortgage
Buy Diapers!
People are always asking me for way's to make extra money, so I thought I would write a HUGE blog post about how I've made some extra money over the past 20 years.
Below is a MASSIVE LIST of Ways To Make Extra Money.  There are a lot of these resources on the web out there.
The one differentiating point for this resources is that I have actually done the vast majority of these!
Let's get started!
Web-Based Extra Money Ideas
1 Have A Website
There is no better resource out there to build your personal brand than a website.
A lot of people are overwhelmed with the process, but it's really easy when you buy your domain get your hosting through bluehost.
If you use my affiliate link I will be glad to help you choose a personal wordpress theme.
Check out my bluehost tutorial on how to get a website going in 9 minutes here:
Get BlueHost with My UGLY affiliate link and I will help you install your wordpress site and get started
www.bluehost.com/track/jtmoniii
2 Consulting
This is the easiest hustle to start because it doesn't require any up-front investment.  I usually help people with business plans since that is what I know the most about.  Instead of dreaming up an idea, just ask yourself what somebody has already paid you to do.  Then just do more of that!
Check out Nick Loper's Side Hustle Nation podcast for more consulting ideas.
3 Ads
It's insanely hard to make money with Ads.  I have google ads and media.net ads on my site.  They haven't made me any substantial money.  However, buzzfeed and several other sites have done amazing with them.  My favorite blogger Pat Flynn has several sites that are monetized by ads.
4 Books
Most people get really overwhelmed with writing a book.  I actually have started a separate business helping people write books because the process isn't that painful.
I would recommend to just start small and create a small guide or ebook.
Then launch it on kindle.
All of this cost nothing and could add substantial income.
You can check out my Kindle books here
5 Courses
Now that you have a website – teach somebody something!
6 Affiliate
Again, my favorite blogger doesn't have any substantial products on his main site, but makes six-figures a month in affiliate income.
Check him out: http://www.smartpassiveincome.com/
7 Promoted Content
If you have a decent email list and website you can ask big brands to promote your content.
You can view my application for ideas here: https://realestatefinance.wufoo.com/forms/sponsored-content-and-freelance-writing/
8 Be a Personal Assistant
Everybody is stretched for time.
Here is an instant seller.
Ask people on facebook or wherever you hang-out, what is the one thing they have been putting off doing for the last 3 weeks.
Offer to do it for them for $40 and it will be done within the week.
9 Digital Products
I'm a huge fan of digital products.  If you describe your product right there is minimal refunds and you don't have to deal with printing companies, fulfillment, and the post office.
You can check out my digital products here for an idea:
https://gumroad.com/exporterjim
10 Physical Products
While digital products are easy, physical products sell better because people like tangible things.
An easy way to do this is buy things at garage sales and resell them on ebay.  You can even sell people's collectibles for them and make a % of the sale.  That way, you have zero risk.
11 Dropship
Drop-ship websites are fairly complex to set-up.  I would recommend just using Amazon's FBA program and letting Amazon fulfill everything for you.
I highly recommend this podcast if you are interested in this: http://theamazingseller.com/
12 Build Websites
Building websites for people seems intimidating but for 95% of people it's extremely simple.
Check out my bluehost tutorial on how to get a website going in 9 minutes here:
For advanced sites, I recommend you just buy Leadpages.  It's super easy and you can make more money reselling higher-end sites that are integrated with ecommerce options and email list options.
Outdoor Maintenance Ideas
Here's the thing: you don't want to think about what you want to do.  You want to think about what other people don't want to do.  Then charge appropriately. 🙂
13 Clean Gutters
NOBODY likes to clean gutters.  It's dangerous, time-consuming and messy.  This is perfect for me so I charge accordingly! 🙂
14 Pressure Wash
Again, pressure washing is something that most people need to do, but few people get around to doing it.  Here's an AWESOME case study of someone that made over $20k in a weekend pressure washing: http://kopywritingkourse.com/powerwashing-flyers-copywriting-case-study/
15 Mow Lawns
Yes, you probably did this as a kid and promptly stopped when you could.  However, I know several people who make six-figures mowing grass.
The best part: they only work 8 months out of the year!!!!
My friend Keith has an excellent site where he teaches people how to start their own lawn care business: http://startalawncarebusiness.com/
16 Move
EVERYBODY HATES MOVING!  My favorite strategy is to charge for moving, then find laborers to do the actual work.
You make the difference of what you charged (revenue) and what you paid the laborers (costs) = PROFIT!!!!
17 Clean Foreclosures
This was my favorite strategy in the downturn.  I would charge a flat $200 per house.  It never took longer than 2 hours.
Call on realtors and banks who deal with a lot of foreclosures.
Learn More About Me and How I Built A 6-Figure Real Estate Business While Working Full-Time
Construction Ideas
18 Roofing
Roofing is one of my favorite ideas because it's expensive and NOBODY actually does it themselves.  Below are 2 roofing strategies. Yes – I'm double-dipping – to re-emphasize 🙂
19 Roofing sales
This is my obvious favorite.  First, you have to find a roofing company willing to pay you a commission.  Then you just drive around looking for roofs that obviously need repair or a new roof.  
Note, most roofing companies don't do repair work.  They would rather make more money and just give you  a new roof.  The best of-course is if you find a builder who is building multiple houses and therefore needing multiple roofs 🙂
20 Roofing labor
If you completely suck at sales and hate your life, you cold always do the roofing labor.  This is really hard work – FYI.
21 Labor-Ready
This is as easy as it gets – show up  – work doing the manual labor for the day – then get paid.
You won't make much money – but it's easy.
22 Wash Cars
The best part is if you can do this and up-charge a detail job.  You can make a ton of money if you target car lots.
23 Paint Curb Addresses
This is one of those easy ideas that nobody does.  I know people who make $1,000 a month painting addresses on curbs.  Go to an HOA meeting or get listed in the HOA newsletter and you will have more business than you can handle.
24 Install Peep Holes
This is extremely easy, but most people don't want to do it.  Go to your local hardware store and install peep holes in door's.
25 Install Security Systems
You can work for a security company but I highly recommend you just sell a complete package on Amazon, charge for that and then charge for the service of installing it.
It's pretty easy to install a security system now if somebody has wi-fi.  Offer to set-up a system for someone and they won't be charged a monthly fee.
Here is a great home security system on Amazon
26 Sell Barn Wood
Barn wood is hot right now.  However, it's a pain to drive around and find farmers willing to sell it.  If you find a barn that is being torn down this is easy to resell.
27 Sell Scrap Metal
Call ahead first and find out the prices on scrap metal.  For me, it's not worth it unless it's copper.
28 Haul People's Junk Away
This is a potential win-win as you can get paid to haul people's stuff away and you can also sell the stuff.  At the very least, take it to goodwill so you get a tax-deduction.
29 Home Inspection Services
You sometime have to be licensed to do this for home purchases.  However, you can also do construction inspections for banks.
In my experience you can make anywhere from $50-$250 per inspection for a couple of hours of work.
I'm a big fan of up-selling.  Basically that means you get paid to do a job, but then while your doing that job you see an opportunity to make even more money and you take advantage.  
An easy up-sell if you are a home inspector is to offer to replace the thermostat with a programmable thermostat so they save money every year.
This doesn't take any real skill and you could easily charge an extra $50 for this.
30 House Sitting
Oddly enough I haven't done much house sitting.  However, several of my friends travel quite a bit and just house sit in random places for some well-to-do families.  
You don't make that much money, but it can let you travel to some pretty cool places.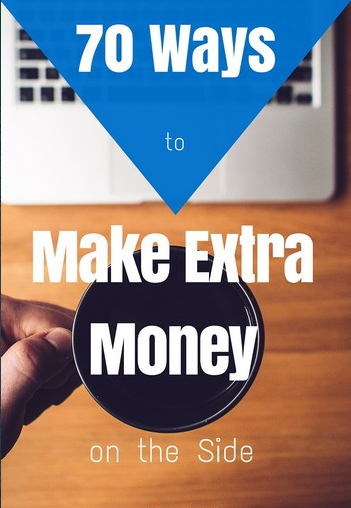 Sales Ideas for Extra Money
Here's the the thing – THE VAST MAJORITY OF BUSINESSES NEED MORE REVENUE.
Here's one more thing – THE VAST MAJORITY OF PEOPLE ARE TOO SCARED TO ASK FOR A SALE.
[Tweet "Need + Everybody else is scared = OPPORTUNITY FOR YOU!"]
31 Live Event
This is the easiest thing to do because it doesn't require much up-front investment.  The best part is that you can live-stream the event or record it and sell the recordings.
I personally like Eventbrite for my live events.  It's a great platform that's free to set-up events with and very easy to use.
32 Ebay
This is a great business that people still overly discount.  I have several friends that buy things cheap at garage sales and then ebay the items.
33 Amazon
Most people don't know this but you can actually sell on Amazon and it's actually pretty easy.  Unlike Ebay's system you just set the price and forget it.
Amazon of-course take a cut, but it's pretty small and shipping fee's usually cover the percentage they take.
34 Amazon Affiliate
35 JVZOO
JVZOO is where I sell some electronic products.  They have an affiliate program where you can sell other people's digital goods and get paid.
This doesn't cost any money and can easily be set-up.
36 Clickbank
Clickbank has been around a long time.  It's very similar to JVZOO but it has more products to search for and sell.  There is a minimum sales amount before they will cut you a check.
37 Sell Clothes at a Re-Sale Shop
I haven't had good luck with this but some of my wife's friends has.  These stores seem to be pretty picky.  If you have a lot of name brand clothes this is a great way to get some cash quick.
38 Sell Golf Balls
I did this in high school and you wouldn't believe how much money I made.  I'm actually going to crank this back up this summer.
Here's a great article on a guy making six-figures selling used golf balls:
http://www.thepennyhoarder.com/wont-believe-much-can-earn-collecting-lost-golf-balls/
Learn More About Me and How I Built A 6-Figure Real Estate Business While Working Full-Time
Consulting Ideas for Extra Money
Consulting is a big term that means a lot of different things.  Essentially, consulting is cheaper (or better) than hiring full-time employees.  Don't try to reinvent the wheel here.  Just look for what businesses are already paying for.
39 Bookkeeping
This again is one of my favorite businesses because it's required and everybody HATES doing it.  This presents you with a great opportunity.
40 Manage Google Ads
Google Adwords can be extremely tough to learn.  However, it can be very profitable for a company to advertise.
This is an easy sell to small businesses that are advertising in print.
Just ask them if they have ever thought about advertising online.
They will inevitably say: Yes, but we don't have time.
Your answer: I have time, can I manage it for a small monthly retainer?
41 Build an email list
An email list is an absolute must-have for small businesses.  Unfortunately, most small businesses don't take advantage of this.
However, like most things small business owners don't have time for this.
42 Craigslist
Craigslist hacking takes a ton of time, but is fairly easy.  I know a couple of people online who make a full time job with fixing and selling appliances.
43 Yard Sale
I'm constantly amazed at how much money we make when we have a garage sale.  I would ask friends and family to donate items if you really want to increase your revenue.
44 Flip A Car
For 2 years I basically drove a car for free.  I partnered with a used car dealer and would front the money to buy a car at a wholesale price.  I would then sell it at retail and split the profit with the dealer.
This requires hustle – like most money making ideas, but I highly encourage you to do this.
45 Uber
This is a pretty easy way to make money.  I know several friends who have made over $500 in a weekend.
This is an excellent resources: http://www.thepennyhoarder.com/make-more-money-driving-for-uber
46 Shipt
Shipt is a great service where you go to the grocery store and get people's groceries, then deliver them to their house.  According to there website you can easily make $30/hour.
Home-Based Ideas for Extra Money
47 Dog-Walking
This is tried and true where you make more money than you realize when you get multiple dogs.  The best part is that this can be a regular recurring gig.
You also get exercise and reduce stress.
48 Pet-Sitting
Very often it can be cheaper to hire a pet sitter than put your pet in the kennel.  This requires minimal actual work and can pay great cash.
49 Clean Pools
One of my friends that I went to college with left his white collar job at a Fortune 500 Company to go clean pools.  Four years later, he is doing seven figures in revenue and has multiple employees.
The best part is that he only works part of the year.
50 Ironing
My step-dad used to iron people's clothes and he made enough money to pay for his monthly rent.  He was a college professor so it just goes to show that sometimes you have to put your pride away.
51 Pet Grooming
You can make a ton of money grooming pets.  Especially if you are willing to travel.  I know multiple pet groomers who make six-figures a year!
52 Photography
My wife owns her own photography business so I'm extremely familiar with this idea.  There are tons of ways to make money with photography:
Stock Photography
Wedding Photography
Headshots
Real Estate Photography
Follow-Up Resources:
Farming Ideas for Extra Money
The good thing about farming for extra money is that even if you don't make extra money selling the goods, you have plenty of food for your family to eat.
53 Sell Garlic
I know this is an odd one to start with but I've read several great articles on people making a full-time job selling garlic.
Here is the article I read: http://www.profitableplants.com/garli/
54 Resale Vegetables
I had the false impression that you had to grow the vegetables and then sell them.  Most people actually buy from the farmer and then resell the vegetables at the farmer's market.
You actually make more money than the farmer doing this!!!!
55 Build Furniture
This doesn't take as much skill as you would think.
I recently made some pallet benches and a coffee maker for a friend using some simple tutorials I found online.
A friend of mine is selling farm tables for $1,000.  He gets the wood for around $150.  He plans on paying off his student loans this way.
My two favorite sites for building are:
Random Ideas for Making Money
56 Airbnb
I listed my house on Airbnb at an outrageous rate.  I didn't even tell my wife.  However, somebody actually rented it.  I am a huge fan of using Airbnb for extra money.
I wrote a very detailed account of my experience with Airbnb here:
My Friends All Laughed At Me When I Told Them This Strategy…But Then I Showed Them The Check
57 Babysit
Some of my friends that live in major metropolitan areas pay their babysitters $20/hour.  That's great money!
It doesn't require any investment and you can make a lot of money with referrals.
58 Shoe Shining
This is old-school!  I like it.  Hit up a business park or a cigar parlor.  Even better, do it for free and only ask for tips!  You might make more than if you charged!  My fellow soldier Tom Morkes wrote on awesome and fun book about Pay What You Want Pricing.  Get it here.
Writing Ideas for Extra Money
59 Tutor
My wife's friends from high school paid off over $100K in student loan debt tutoring after hours for 2 years!  You can easily charge $80-$200 an hour.
You can of-course make more money with group tutoring.
60 Ghost Write
I have actually helped a top-selling real estate author write his book.  There are a lot of people that have a valuable message but don't have time to actually write.
Want me to help you write your book?
Go Here: https://realestatefinance.wufoo.com/build/sponsored-content-and-freelance-writing/
61 Resume and Cover Letter Writing
Resume's are extremely hard to write and cover letter's are even worse.  Sometimes its better to hire someone simply for grammar purposes.
You can easily find people that need resume help on Linked-In.  These people will have a current job title like: Looking for Opportunities.
62 Linked-In Profile's
Linked-In is an amazing resource.  Linked-In profile's are extremely intensive and actually hard to maximize with all of the moving parts.
You could easily charge $50-$100 per Linked-In Profile just for maximizing it and changing the copywriting.
63 Kindle Author
First-off it's incredibly easy to be a kindle author.  All you do is write some stuff in a word document or whatever you usually write in.  Go to: kdp.amazon.com
Upload and publish
Of-course if you want to make an awesome amount of money you need to edit and spend time doing it the right way.
This guy makes around $50K a month from just kindle sales!
Check out my Kindle Books Here
64 Write Amazon Product Descriptions
I know several people online who make around $300 per day writing Amazon product descriptions.
It's easy to find great products you like and then if you think you can improve the description, just email the owner and tell them you would like to rewrite the description for $50.
Do this 10 times and tell me if it doesn't work!  I know it will!

65 Proofreading & Editing
These gigs are actually harder to get than you would think.  The value is in the content production.  Nevertheless, if you can't produce get a editing gig.
I would suggest: freelancer.com, fiverr.com, Craigslist and Facebook as places to get Ideas.
Social Media Manager Ideas
66 Manage Google and Facebook Ads
Google adwords and Facebook ads are extremely valuable.  The vast majority of the companies that I know that use them have an excellent ROI.
The problem is the learning curve is very steep if you want to do it right.  Again, this is a time-intensive process that most small business owners don't have time for.
Further Reading: https://www.google.com/adwords/
67 Build Someone's Youtube Channel
Youtube has a BILLION users.  This is almost 1/3 of all internet traffic.  Yet some companies completely ignore it!  My friend Brandon Turner at BiggerPockets has done an impressive job posting very valuable real estate advice on the BP Youtube Channel.
68 Build Google Local Sites for Businesses
One of my favorite author's James Altucher said if he woke up homeless, he would charge $300 to build out a google local site for a business.
Just by having a google local site you can guarantee your listing in google will show-up at the top of several searches.
69 Build a Facebook Page for Businesses
Facebook fan page's are a great way for businesses to generate interest for their business.  They can post the store's phone number, hours, locations, shoot video's and upload product pictures.  The possibilities are endless.  It would be extremely easy to sell this service to a small business for a $200/month retainer.
Last Idea
I tried to save the best idea for last
My best idea is to straight-up HUSTLE.
I want you to approach 1-day with this mindset: What problems are other people having that I could fix.
This will probably not be things you want to do – rather it will be things that other people will pay money – SO THEY DON'T HAVE TO DO IT!
For instance, I went running the other day and saw a retaining wall that had literally crumbled apart.
I could go up to the person's front door and ask if they wanted me to fix this for them.
OBVIOUSLY  there is a problem when you have a retaining wall that has already fallen down.  At the very least, they need somebody to haul away the concrete, stones and debris.
If you are a cynic you might be thinking: But Jimmy, I don't know how to build a retaining wall.
Guess What
NEITHER DO I!
I do know how to call block masons and get bids to fix the wall.
Let's say I call JM Masonry and get a bid for $2,000 to fix the wall and another $300 to haul the old wall away for a total of $2,300.
Then I also know how to take that number and add $1,200 for a total of $4,000.
If they don't buy, no worries – I have zero dollars invested and about 10 minutes of time wasted.
If they do buy, I will have about zero dollars invested and about 30 minutes of time invested.
HINT: that's a rate of $2,400 an hour!  Not bad for a guy who got his education from the Memphis Public School System!!!!
Summary
I want to make a special mention of my  favorite bloggers:
Side Hustle Nation – favorite podcast of all time.  His site is awesome too.  Be sure to get on his email list where he sends you the highlight reel of all the important stuff in the very valuable podcasts he does.
Nevhille Medhora – this guy is seriously the single Indian version of me.  We have done a ton of the exact same stuff, except he's clearly smarter than me since he makes more money and works less 🙂
VideoFruit – if you are into online marketing – you need to be following this guy.  Genius.
Ryan Stewman – dude is a hustler.  If there is one thing I've learned by following his blog and being in his awesome Sales Group on Facebook is that there is ALWAYS a shortage of salespeople who can close.
Dale Partridge – this guy runs Start-Up Camp and became a millionaire before he was 30.  Excellent values and design.  I highly recommend you check his blog out.
I Will Teach You To Be Rich – I have been following this guy for a long time now.  He teaches very high-end stuff on how to make extra money.  Excellent blog.
Dan Miller – Author of 48 Days to the Work You Love.  Excellent podcast and blog.  Fun Fact: I actually showed up at his house unannounced the week before Christmas.  He welcomed me with open arms, then promptly asked if I would help load a box truck full of books for him.  Which I gladly did!